As social distancing continues into the summer, you may find yourself with enough time to yourself that you're pondering how to write a novel — it's a bucket-list hobby for so many of us!
I think when I was a kid I was drawn to writing novels since it seemed romantic, creative, and lucrative (plus, you'd have time to solve murders or rescue your sister from Colombian kidnappers!).  Unfortunately, as I grew older I realized that writing novels is rarely lucrative, and I pursued other avenues for career — but writing a novel has always stayed in the back of my mind as something I'd love to do one day, just to say that I did it.
So — over the years I've collected a ton of information on the logistics of writing a novel, mostly in an Evernote folder. I should note (big caveat here) that I have never actually written one (ha, minor detail there), so take everything here for a grain of salt. But I know that not only do we have novelists amongst our commenters, I'm sure we have lots of aspiring novelists amongst our commenters as well, who have probably been collecting advice and information along the years the same way I have.
Today, let's start an open thread today on how to write a novel — and readers who are actually novelists, please feel free to drop links to your books here. (As well as share your best tips!) 
This post contains affiliate links and Corporette® may earn commissions for purchases made through links in this post. For more details see here. Thank you so much for your support!
Just Do It
In one of my first jobs, I worked with Mary Higgins Clark somewhat closely as a Family Circle editor; FC published her Mystery Magazine yearly. As a lowly editor I was mostly responsible for chasing authors for deadlines and mailing contracts, but every so often I got to interview Mary to write something in the magazine. (Mary just died earlier this year; I loved this article about what a trailblazer she was for women writers.) Mary had a very unromantic approach to writing — when her husband died and left her with six kids, she gave herself a certain time limit (3 months, if memory serves) to write a best-selling novel, rising when it was still dark outside to get to her word count before she had to go to work.
How to Write a Novel: Hit Your Daily Word Count
This is a theme in a lot of the advice I've read — just get the words out on paper, with a minimum number daily — 2000, 2500. Get the story out of your head and onto the screen, and edit it later. 
I've seen some fun approaches to this over the years — National Novel-Writing Month is technically November, but the NaNoWriMo site has been built up a ton over the years to help writers connect and engage in challenges to get the writing done. I've seen some writers on Twitter engaging in "writing sprints," also, where you just get as many words on paper as you can for a set amount of time (25/45 minutes), checking in at the end with their word counts. 
This is a great folder-system/accountability partner. 
There are even Chrome extensions that basically block you out of your computer until you finish writing your draft, as Lifehacker has written about — you can also use some of my general ideas on improving focus, such as by flipping your mouse over. 
Consider Special Writing Software
If writing a novel in Microsoft Word or Google Docs feels completely overwhelming, there's a reason for that — it is. (Or, hey, by typewriter!) As soon as I saw the software program Scrivener, it blew my mind because I could see how writing could become SO much easier — it's like writing each scene with index cards, color coding, future ideas, and more — so when something is difficult or definitely needs more finesse or writing, you can colorcode the card to easily come back to it; if you want to move entire scenes to see how the work in different places (or cut entire scenes) you can do it all very easily.  I've grabbed a few screencaptures; you can check them out below.  It's $49 at the site; it occasionally goes on sale at sites like StackSocial.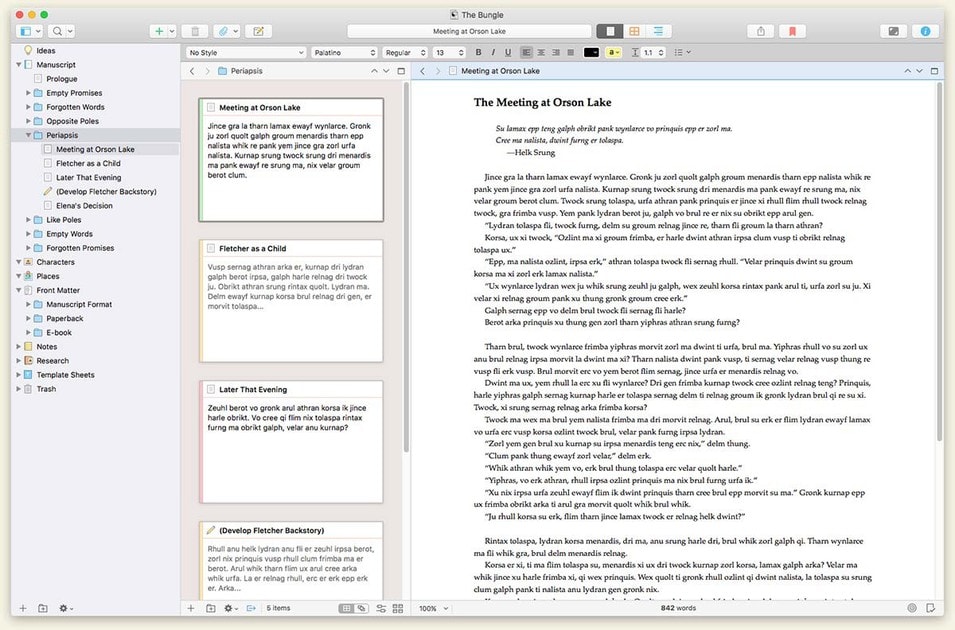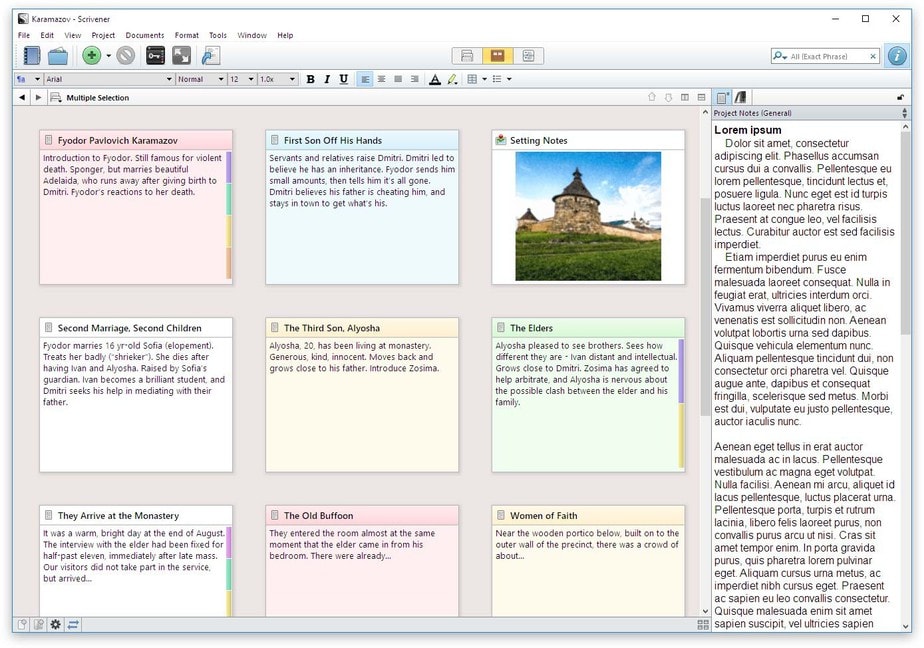 The one complaint I have about Scrivener is that it is a bit difficult to use on iPad; apparently competitor Ulysses is much better but it's a subscription model ($49.99 a year). 
Lifehacker has also written about how to use Evernote for writing fiction. 
If You Don't Know What to Write…
Writer's Digest offers a year of free writing prompts if you sign up for their newsletter; they also offer small competitions. I've also heard good things about these writing prompts from Matt Bell.
You can also try writing formulas, like so many authors use — I've always liked the Pixar story spine but there are lots of others: 
Once upon a time there was [blank]. Every day, [blank]. One day [blank]. Because of that, [blank]. Until finally [bank]. 
I went to a writer's conference when I was 15, and one of the top pieces of advice was to buy 10 best-sellers of the kinds of books you want to write (mystery, romance, sci fi, whatever) and outline the stories as you read them — the formulas that are used within that genre become apparent pretty quickly. It wasn't glamorous advice, and it actually probably kept me from pursuing creative writing — but it's totally true!
If you're stuck on one or two ideas, the Pixar rules of storytelling might be helpful — love the 9th one: "When you're stuck, make a list of what WOULDN'T happen next. Lots of times the material to get you unstuck will show up." 
Obviously, you can take lots of classes on writing, plotting, and more — Masterclass also offers a ton of classes with writers like James Patterson, R.L. Stine, Judy Blume, Neil Gaimon, Margaret Atwood, and more.
I've taken in-person writing classes at Gotham Writing Workshops in the past, and was recently eyeing a satire workshop from Reductress.
Some Great Books On Writing
These books are great, and I recommend them… this roundup at Medium also looks great.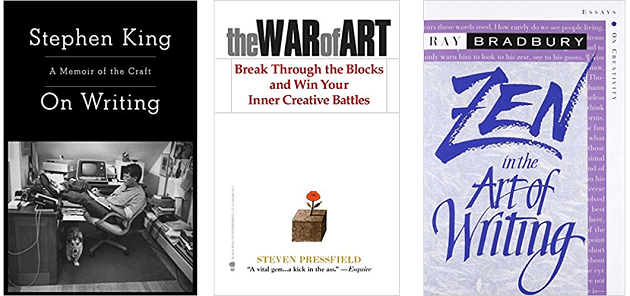 On Writing, Stephen King / The War of Art, Steven Pressfield/ Zen in the Art of Writing, Ray Bradbury
I also remember The Tools being fabulous if you're trying to figure out why you're NOT writing (or doing X), but it's been years since I read it — I'm due for a reread. Here's a great infographic with 14 tips from Stephen King's On Writing. 
This series at Medium ("How I Book") is also great, including the first article, Five Things I Wish I'd Known Five Months Before I Published My First Novel. 
Readers, how about you — have you ever wanted (or tried) to write a novel? Have you collected a ton of great info on how to write a novel, like I have? What are some of the best tips you've ever seen on how to write a novel?